Having been relegated to working from home during the pandemic, I've been looking at more opportunities to get out. I live further away from the city, so most locations require commuting. Driving a car for these felt unnecessary, while transit is time-consuming. After reading about eBikes recently, I pulled the trigger. It has bridged the gap between biking, driving, and transit for me.
Selecting an eBike
eBikes are bicycles that use a motor and battery for propulsion. Despite this simplicity, there are a lot of details that can make it challenging to pick one. I limited myself to prebuilt bikes, but you can also retrofit an existing bike.
Classes: Most regions regulate eBikes under a three-class system, which outline how they can be operated.

Class 1 (Pedal Assist/Pedelec) eBikes require pedaling to provide power. You can ride them on any road you can ride a regular bicycle.
Class 2 (Throttle Assist) eBikes provide power with the twist of a throttle, similar to a motorcycle. Some regions may impose additional restrictions limiting where they can be used.
Class 3 (Speed Pedelec) eBikes can reach higher speeds. However, they are more restricted and only allowed on specific roads or require additional licenses depending on the jurisdiction.

Batteries: eBikes either have a removable or non-removable battery, which is externally mounted or integrated into the frame. Batteries also impact the range of your bike. So get one that can accommodate your typical trip and one that you can charge conveniently.

Motors and Sensors: Motors propel the bike, while sensors determine how much power the cycle provides. Together, they impact the eBike ride experience.

Motors come in two variants - hub drives and mid drives. Hub drives physically spin the wheel, so they don't feel as natural but are cheaper and can use a throttle.
There are two kinds of sensors - cadence sensors and torque sensors. Cadence sensors detect when you are pedaling and operate as a simple on-off switch for the motor. Torque sensors consider how hard you pedal, making them feel more natural.
You'll also have to decide which traditional bike features you want. These categories are a good starting point for your search:
Cruiser Bikes: Built for leisure rides, they emphasize comfort through features like an upright seating position and a step-through frame. Great for slower trips.
Road Bikes: Designed to go fast by staying light and facilitating an aerodynamic riding position. Excellent for fast rides.
Gravel Bikes: Their larger tires provide better traction and comfort on unpaved roads.
Hybrid Bikes: A middle ground between road and gravel bikes. If you frequently travel on- and off-road, this bike is for you.
Commuter Bikes: Meant to be driven rain or shine, they come with features like fenders, lights, and rear racks.
Mountain Bikes: Similar to gravel bikes but with suspension options to reduce strain.
Cargo Bikes: Designed to carry extra loads, from groceries to passengers. eBikes differentiate themselves from regular bikes in this category the most. There is a whole other world out here.
Picking a well-known brand makes maintenance easier. Here are a few that frequently came up:
I was also excited about "smart" bikes like Cowboy and Vanmoof, but they aren't available in Canada.
Most stores also allow test rides - which can help get a sense of different features. If you want more detailed information about specifical models, these are some excellent resources:
Condensing all this information, I recommend buying a Class 1 eBike from a well-known brand, built by a local dealer that feels comfortable to you and has enough range to handle your trips.
My Pick
I went with the Riese and Muller Superdelite - specifically the GT Rohloff variant with the GX option and full suspension. I would have also been happy with the Delite, a single-battery version of the Superdelite. However, these bikes are made to order and take 2-4 months to deliver in North America. I was impatient, and I found the Superdelite in stock on Vancouver Island.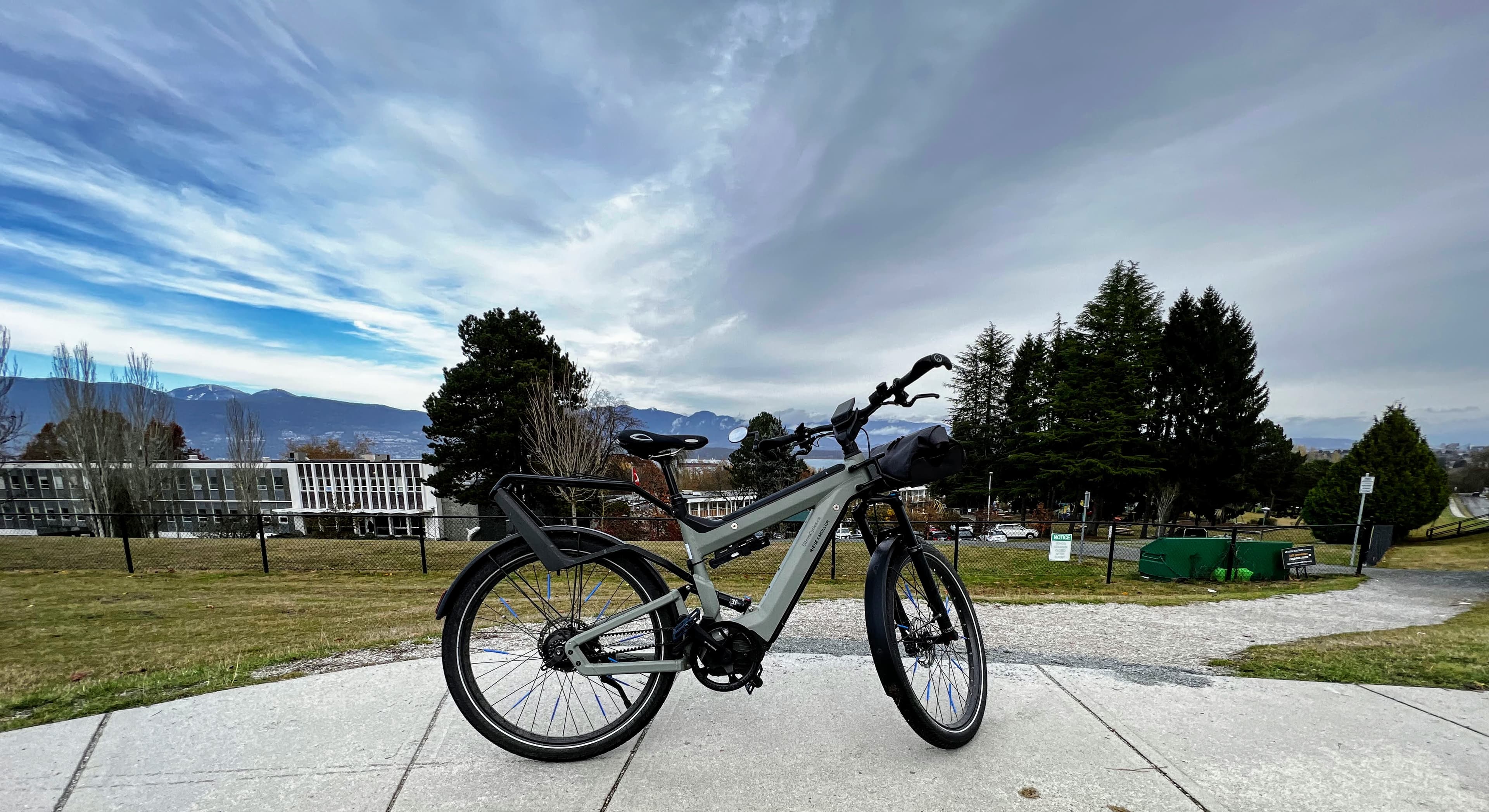 Ultimately these features drew me to it:
Commuter features like fenders (for wet conditions) and lighting (for visibility).
Full suspension for comfort on bumpy trails.
High range, minimizing the frequency to charge the battery.
A belt drive, which should have more durability than a chain drive.
Riese and Muller (and this model in particular) were consistently highly rated.
Nice design - a surprising number of people have complimented the bike.
After riding the bike for a few months - I was also surprised at how comfortable it felt. The combination of full suspension, gel seats, and ergonomic grips make for a very smooth ride. I have a hard time going back to my regular bike. I'm grateful that the bike lock uses the same key as the battery lock. The bike can also automatically gear down when stopped, which is handy for riding through intersections.
I was nervous about having the bike delivered. It came 95% assembled in a giant box requiring minimal work. I rotated the handlebars, installed the pedals, and pumped the tires. I had a couple of issues to get looked at at a bike shop. Still, overall the experience was smoother than I expected.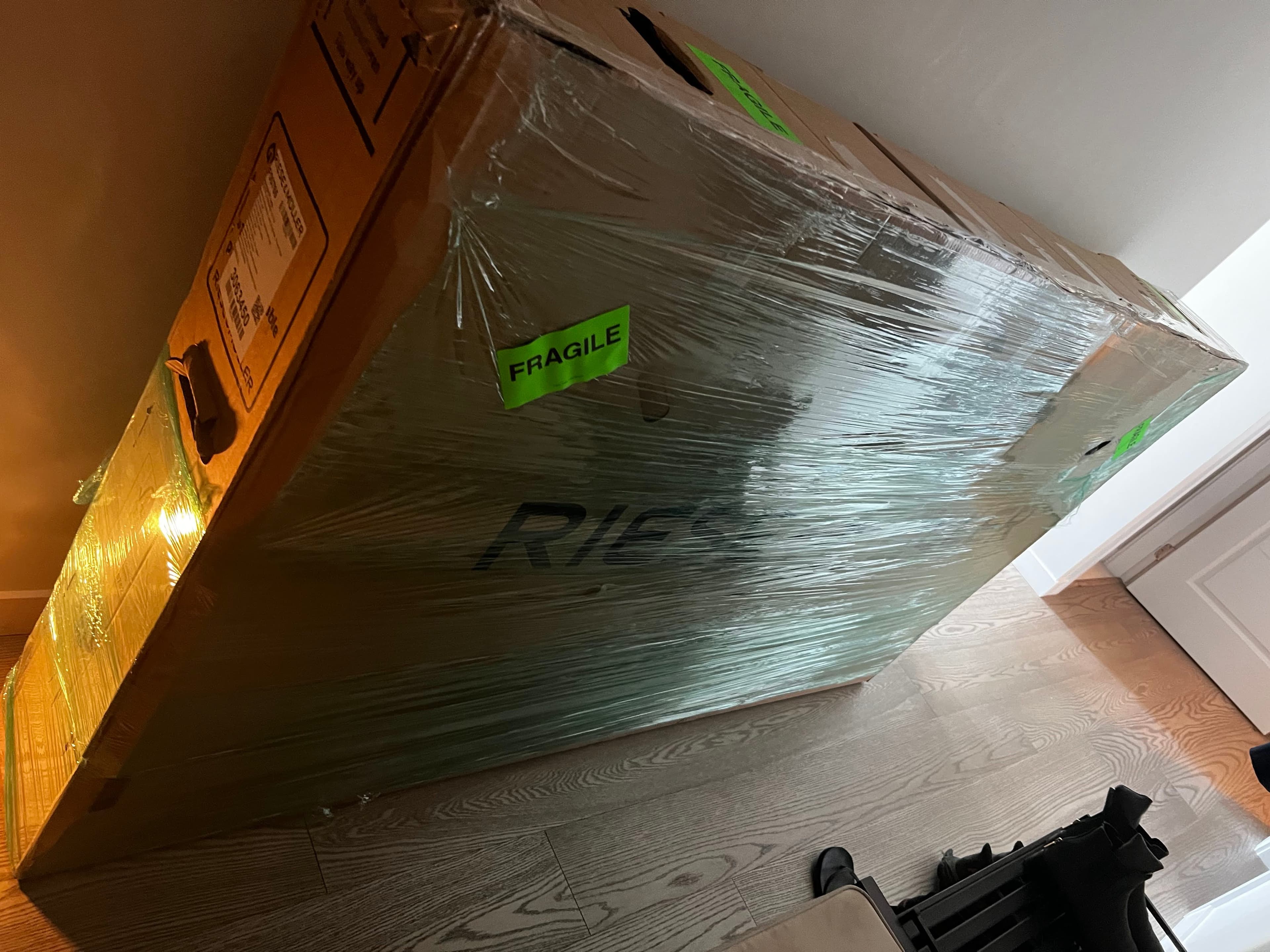 There have been some annoyances.
Servicing: I can generally walk into any bike shop with my regular bike, but not my eBike. Some components need specialized equipment and cannot be handled by all bike shops.
On-Board Computer: The weak point of the (Nyon) is the navigation. It requires sitting through an annoyingly slow prompt on boot and needs help finding an address correctly. I wish there was an Apple CarPlay for bikes.
Batteries: The Superdelite comes with two different kinds of batteries - a 625Wh battery (integrated into the frame) and a 500Wh battery (integrated into the top tube). I would have preferred a single kind to have a spare battery to swap in. I also wish the secondary and primary battery locations were inverted, as removing the secondary battery is easier.
Cargo: I'm not completely satisfied with my cargo setup. My old pannier doesn't fit snugly on the rear rack, while the front carrier bag blocks the front light (despite being custom-built for this bike).
Traction: The stock tires (the GX option comes with gravel tires) and pedals could have a better grip. The tires often lose traction on gravel roads, and my feet frequently slip off the pedal in wet conditions.
Bike Theft: I feel much more nervous about leaving the bike unattended for long periods, like when I ride to the movies.
Cycling Experience
eBikes addresses my most significant challenge with casual biking - riding hills. Biking also beats being stuck in traffic, and the views are lovely.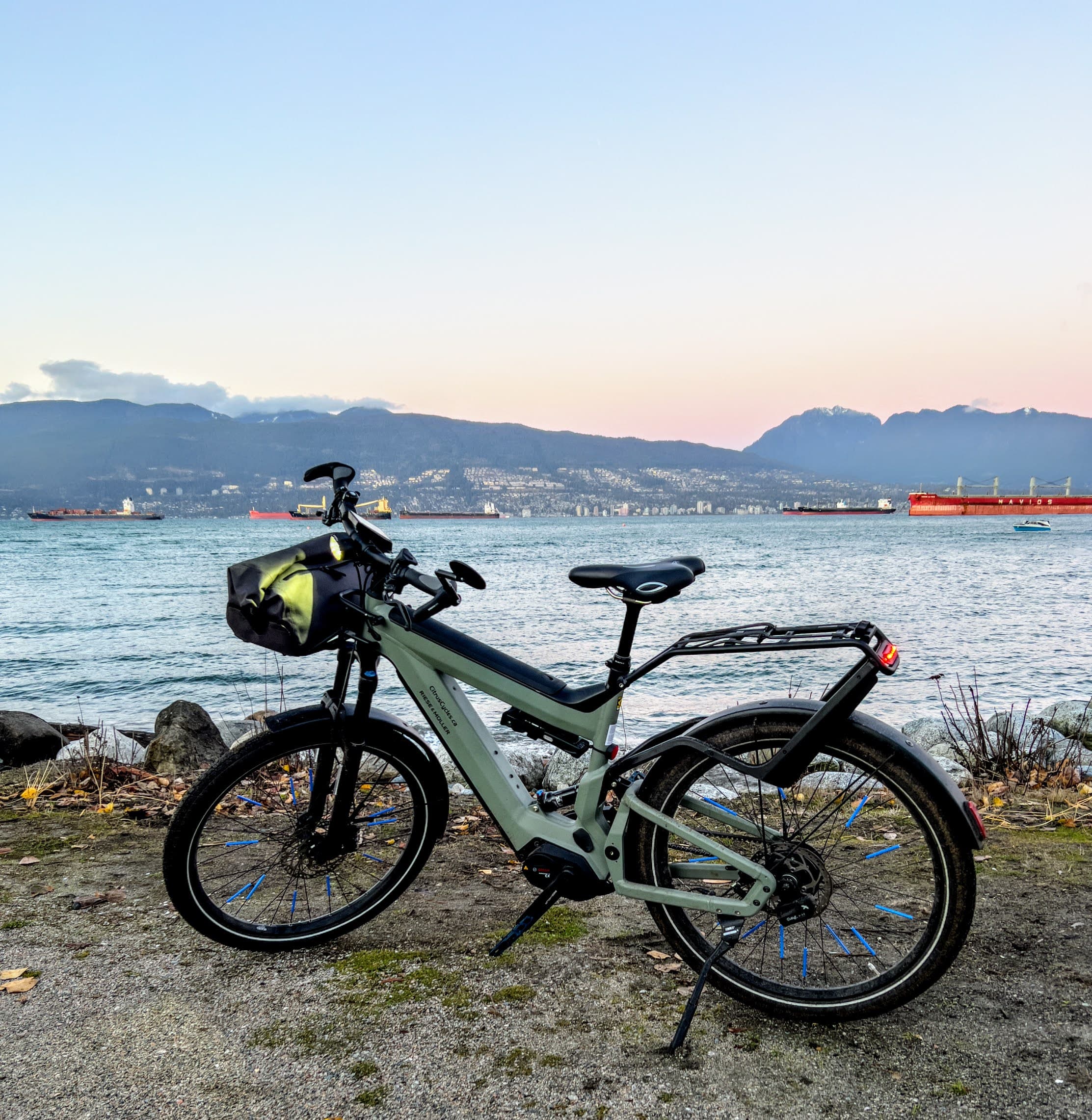 Vancouver also has excellent cycling infrastructure that makes it possible to avoid heavy traffic. You can also combine biking with transit, though only lighter eBikes can be carried on buses. This makes it easier to get started and build up confidence. Keeping up with car traffic is much easier with an eBike. But there's still plenty of room for improvement. In particular, there are a lot of uncontrolled intersections that feel harder on a bike. Like this particularly challenging uphill turn.
Upgrades and Gear
It's easy to go overboard with upgrades, and I've had to reign myself in significantly. I'd recommend using the bike for some time before jumping into these.
Winters are rainy and cold in Vancouver, and the following make riding much more enjoyable.
Sustainability
Road transport accounts for 10% of global CO2 emissions.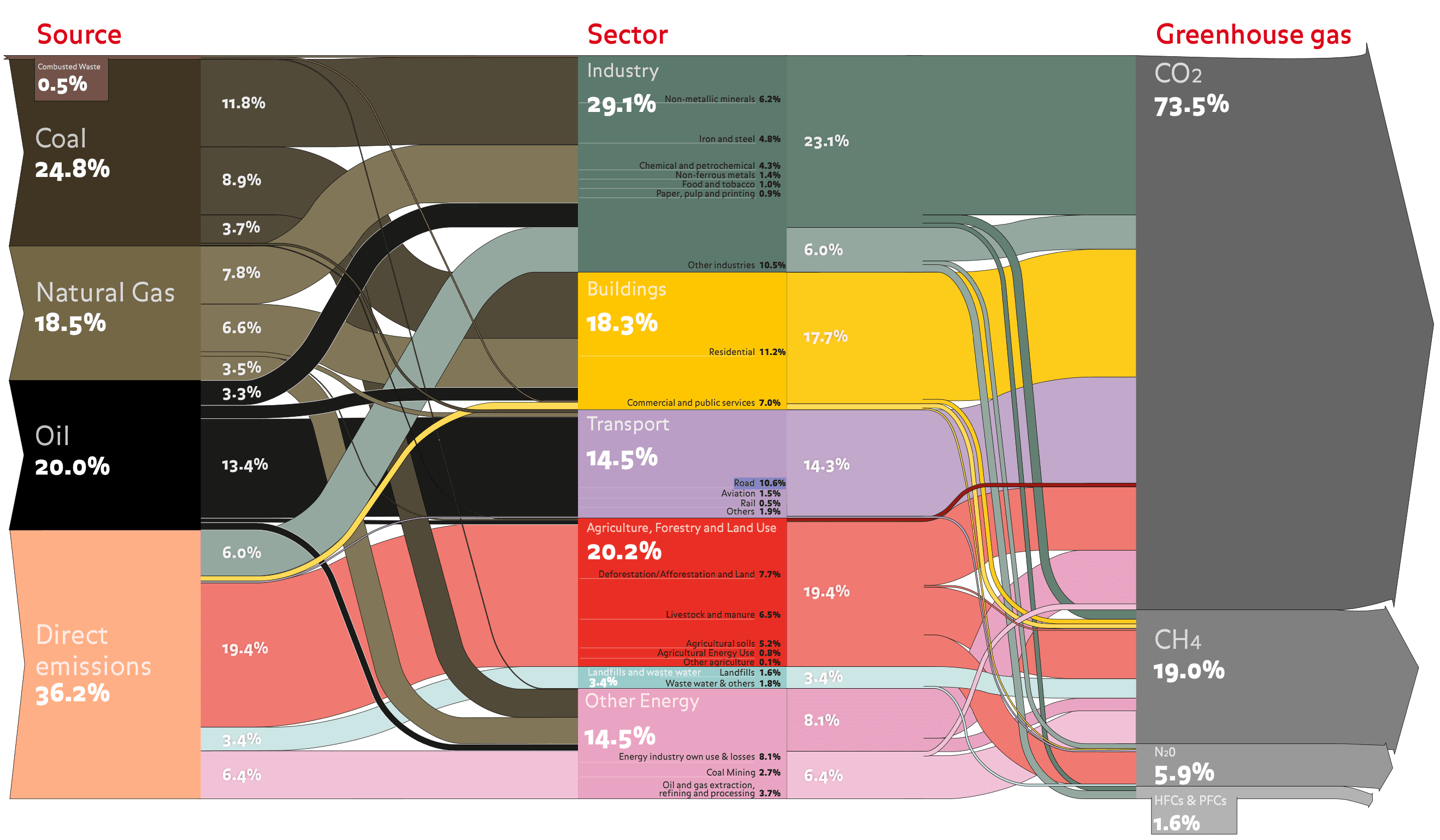 There is a big push to electrify cars to mitigate this. Electric vehicles require less energy than an internal combustion engine and can use cleaner energy sources. Most of my driving is electric and powered by relatively clean energy.
However, it still can't compete with an eBike on emissions.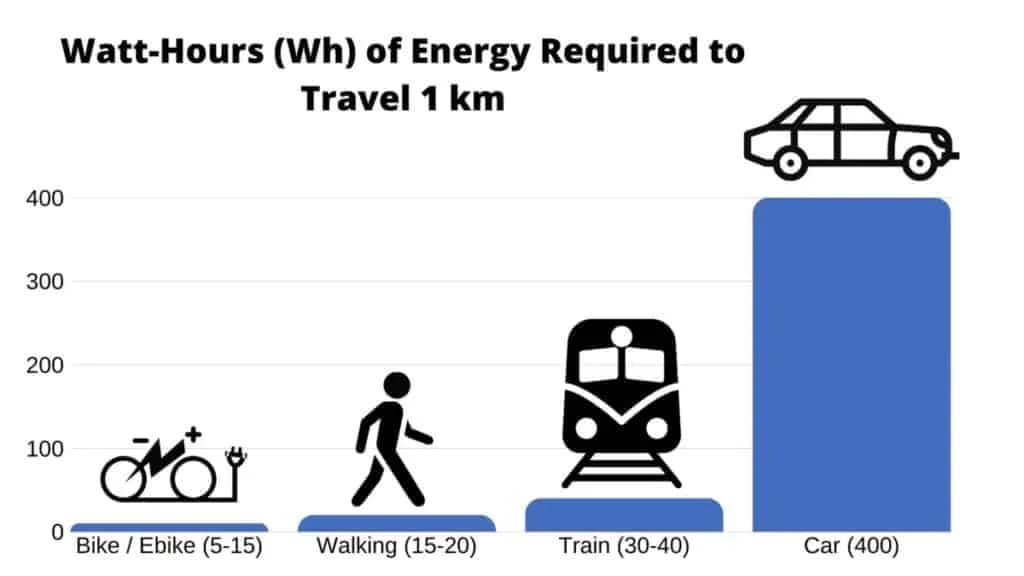 It takes less energy to bike one mile than to walk a mile. eBikes are more efficient to transport than larger vehicles as more energy is spent moving the passenger/cargo vs the vehicle. eBikes are also less intensive to manufacture due to their lower mass. I suspect biking infrastructure is also less intensive to build and maintain (less wear and tear on roads).
eBikes can replace a lot more urban car trips than people think, so consider getting one!